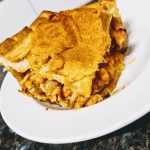 Print
Easy Roast Chicken and Bacon PIe
A easy make chicken and bacon pie with a creamy sauce. Family favourite
Ingredients
1

Whole

Precooked Roast Stuffed Chicken

Supermarket hot birds are great. Let them cool overnight before use

6

Rashers

Streaky Bacon

3

Sheets

Flaky Pastry

1

Packet

Maggi Cream of Chicken Cuppa Soup Mix

1

Cup

Water - Boiling

1

Cup

Baked beans

Drain most of sauce
Instructions
Once the chook is cold remove all the meat from the bones. You want a range of sizes for the chicken bits. Cube up the stuffing.

.Fry up the bacon, Get it good and nicely well done. Chop up roughly once cooked

Spray oil a 10x10 square baking tin. Cut Once sheet of pastry in half and use this and one other sheet to line tin. Seal edges by squeezing together

Put the chicken in the pastry lined tin. Dot the stuffing over top and the baked beans then spread the chopped bacon around.

Mix the soup mix with a cup or so of boiling water. Pour the soup mix evenly around the pie. Cover with last sheet of pastry. Seal edges well. Cut a slit in the top to vent steam.

Bake for 30-45 minutes depending on oven. Fan bake for a bit then classic bake so the pastry doesn't get burnt. Once baked remove from oven and let stand for 5-10 minutes.
Notes