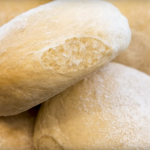 Print
Soft Sandwich Rolls
Great soft texture roll. Fill with ham, salad and mayo for that perfect work lunch
Ingredients
500

gm

Bread Flour

20

gm

Wheat Gluten

310

gm

Water

Lukewarm

7

gm

Yeast

15

gm

Vegetable Oil

8

gm

Salt
Instructions
Add all of the ingredients to a bowl or stand mixer. If your using a mixer use the dough hook attachment and mix for 10 minutes. If you making the dough by hand knead it for 10 minutes also.

Place the processed dough in a lightly greased bowl, cover and allow proving for at least 1 hour, this time may vary depending on the temperature of your kitchen.

Grease 1 large or 2 small baking trays or 35 x 25 baking cake tin

After the first proof, divide the dough into 8 pieces, roll each piece into a ball and allow the balls to rest for 5 minutes.

After the 5 minutes shape each dough ball into discs and evenly space them on your trays.

Sprinkle a little flour over the rolls and cover with a lightweight dry cloth and allow proving for however long it took for your first proving.

When there is only 10 minutes left on the rise, preheat you oven to 180°C that's 355°F or gas mark 4

After the rolls have risen sprinkle with a little more flour and get them straight into the preheated oven and set your timer for 16 minutes.

When baked place the rolls on a wire rack and allow to cool for 30 minutes.