Mmm pancakes. A great weekend breakfast for the kids (and big kids).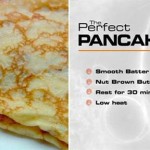 Print
Perfect Pancakes
Ingredients
1

Cup

Plain Flour

3

Eggs

2

Cups

Milk

1

tbsp

Caster Sugar

60g

Butter

unsalted

Spray Oil

for frying

Lemon Juice

to serve
Instructions
Sift flour into a bowl.

In a separate bowl, whisk eggs, milk and sugar until combined. Make a slight well in the centre of the flour and pour in egg mixture, incorporating the flour into the batter from the inside out, whisking until smooth.

Melt the butter in a frying pan over medium heat until a light nutty brown colour. Cool slightly, then whisk butter into the pancake mixture until combined.

Cover and refrigerate for 30 minutes to rest.

Spray oil onto the base of 22cm non-stick frying pan set over low heat.

Holding the pan at a 45° angle, scoop a small ladle of the pancake batter, about scant 1/4 cup, and pour the batter in at the top of the pan. This allows the batter to run around the pan to form a thin even pancake.

As the pancake sets, little bubbles will appear on the surface. Cook for 1 minute on the first side, loosening the edges slightly with a palette knife, then turn and cook for a further 30 seconds on the other side.

Sprinkle a plate with caster sugar. Turn pancake out onto plate, sprinkle with more sugar and squeeze over lemon juice. Repeat with remaining batter.