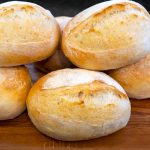 Print
Crusty Bread Rolls
A great crusty roll ideal for workday lunches.
Ingredients
500

gm

Bread Flour

High Grade

8

gm

Salt

8g = 1 tsp

2

tbsp

Wheat Gluten

optional, but can improve the texture.

340

gm

Water

Lukewater – no hotter than 40c

4

gm

Instant Yeast

4gm = 1 tsp

6

gm

Sugar

6gm = 1 stsp
Instructions
Always weigh the ingredients. Cup sizes and teaspoons can vary

Mix the sugar with the water. Once dissolved add the yeast and allow to activate for 10-15 minutes. If it doesn't bubble and foam your yeast is no good. Get new stuff.

Once activated mix with the combined, flour, salt and wheat gluten. Mix in a stand mixer with dough hook for 10 minutes. If mixing by hand you must still mix for at least 10 minutes

Oil a large bowl. After 10 minutes mixing turn the dough out into the oiled bowl. Flip it over so both sides are oiled and shape into a ball. Cover and leave in a warm place to proof for at least 1 hour. It should double in size.

After first proof, turn it out and then reform into a ball. Return to oiled bowl and leave to proof for another 30 minutes.

Grease a large baking tray wityh lard, butter or shortening.

After the second proof, turn out the dough onto a floured worktop, and knock the dough back, and form it into a ball.

Divide the dough ball into 6 or 8 equal pieces, and form them into small balls, place them, evenly spaced, onto a floured bench, dust lightly with flour, cover them with a dry light weight cloth and let them rest for 5 minutes.

After the 5 min rest period, gently roll each dough ball into an oval shape, and place them onto the prepared baking tray, make sure there is plenty of room in between them, dust lightly with flour and cover with a light-weight dry cloth, allow to proof or rise, for 20 minutes.

When there's only 10 minutes left on the proof, preheat your oven to 200°C and place a heavy tray on bottom shelf.

When the proofing time is up and the oven is up to temperature, use a baker's blade or Lame, and carefully score the top each roll,

Add a cup of ice to the tray at the bottom to create steam. Place the tray of rolls in the middle of the oven, and set your timer for 16 minutes, if you want a darker crust, add a further 2 minutes, at a time, until you reach the desired colour. Spray the oven walls and rolls with water to create more steam before closing the door.

Remove from oven and allow to cool on a wire rack.